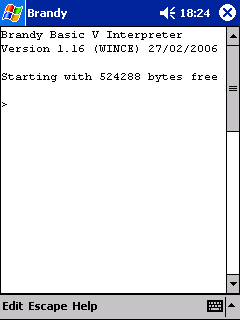 Brandy is an interpreter for BBC Basic (or Basic V as it is referred to here) that runs under a variety of operating systems.

Basic V is the version of Basic supplied with desktop computers running RISC OS.

This is the Windows CE port of Brandy which runs on ARM based Pocket PC's. It has only been tested on an iPAQ H4350 running Pocket PC 2003 but it should run on any ARM compatible Pocket PC running Pocket PC 2000 or later.

To download Brandy for WinCE, click here (665KB). This zip file contains the full source, samples, documentation, plus compiled EXE program.

The program is distributed under the terms of the GNU GPL.

For other OS versions of Brandy, click here to go to the original authors own web site.
---
Revision History
Date
Version
Changes
14/03/06
1.16b
Added ^ 'address of' operator - used when making SYS API calls
Added VDU 7 beep
06/03/06
1.16a
Added support for OSCLI
Added support for calling WinCE API with SYS command
(look at dir.bbc for an example)
27/02/06
1.16
Initial Release
---
| | |
| --- | --- |
| Nov 2010 | 36 |
| Oct 2010 | 28 |
| Sep 2010 | 19 |
| Aug 2010 | 32 |
| Jul 2010 | 34 |
| Jun 2010 | 24 |
| May 2010 | 20 |
| Apr 2010 | 26 |
| Mar 2010 | 32 |
| Feb 2010 | 22 |
| Jan 2010 | 27 |
| Dec 2009 | 18 |
| Nov 2009 | 19 |
| Oct 2009 | 34 |
| Sep 2009 | 12 |
| Aug 2009 | 19 |
| Jul 2009 | 15 |
| Jun 2009 | 13 |
| May 2009 | 20 |
| Apr 2009 | 17 |
| Mar 2009 | 18 |
| Feb 2009 | 25 |
| Jan 2009 | 24 |
| Dec 2008 | 21 |
| Nov 2008 | 21 |
| Oct 2008 | 30 |
| Sep 2008 | 22 |
| Aug 2008 | 21 |
| Jul 2008 | 21 |
| Jun 2008 | 16 |
| May 2008 | 25 |
| Apr 2008 | 28 |
| Mar 2008 | 22 |
| Feb 2008 | 21 |
| Jan 2008 | 25 |
| Dec 2007 | 25 |
| Nov 2007 | 21 |
| Oct 2007 | 27 |
| Sep 2007 | 23 |
| Aug 2007 | 22 |
| Jul 2007 | 22 |
| Jun 2007 | 24 |
| May 2007 | 20 |
| Apr 2007 | 21 |
| Mar 2007 | 19 |
| Feb 2007 | 24 |
| Jan 2007 | 31 |
| Dec 2006 | 23 |
| Nov 2006 | 32 |
| Oct 2006 | 32 |
| Sep 2006 | 30 |
| Aug 2006 | 22 |
| Jul 2006 | 19 |
| Jun 2006 | 15 |
| May 2006 | 13 |
| Apr 2006 | 12 |
| Mar 2006 | 14 |
| Feb 2006 | 6 |
| Total | 1304 |