When using a BBC B host with Econet enabled, the Torch Z80 Co-Processor fully supports TorchNet.

Configuring Econet support is described in the README.TXT file accompanying the distribution file.

The TorchNet local area network allows individual computer systems to communicate with each other, through simple screen messages or by the sharing of file and disc resources.

With TorchNet enabled, the first thing you will notice is the system prompt will change to show your local TorchNet station number :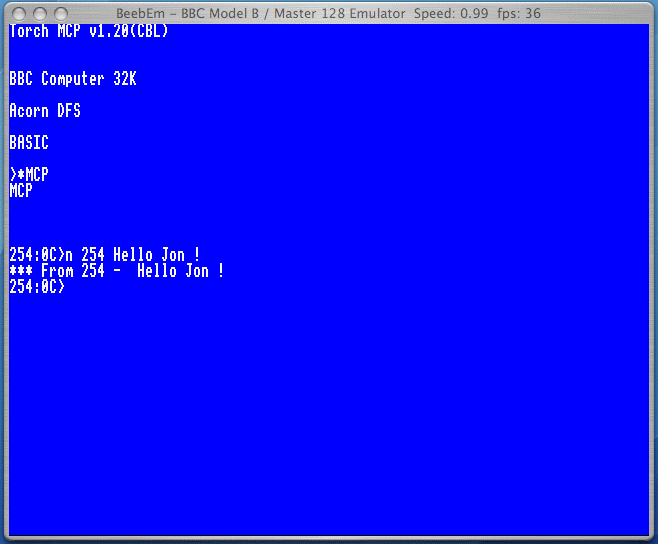 TorchNet commands you might find useful are :
| | |
| --- | --- |
| ATTACH | Sets up a link between TorchNet station disc drives |
| DETACH | Breaks existing link between TorchNet station disc drives |
| FORBID | Prevents other stations gaining access to disc drives |
| NOTIFY (N) | Send messages between stations |
| PERMIT | Allows a remote TorchNet station to ATTACH to your disc drives |
For example, to connect a logical drive J to a remote drive C on station 101 with write access, you would use :
ATTACH J TO 101 C[W
Download the original Torch User Guide for more information on TorchNet (4214 KB).
If you have any specific questions about TorchNet, please drop me an e-mail and I will try to answer any queries you might have.